This Email question to CNET's Road Show is about a common complaint on newer vehicles with "automatic headlights":
I always wonder why automatic headlights – not just daytime running lights – are not yet a standard "safety" feature.  I've come up on a dark highway to a black car with no tail lights on because the driver saw the lights from their daytime running lights and their dashboard was lit up with them and assume their headlights are on.  They don't realize they're completely dark from the back.  Best, Sam
Automatic headlights (though not required) that turn on automatically when conditions are dim or dark…are on many newer cars these days.  The problem is…you generally need to manually switch the headlights control to the "Automatic" position….as opposed to it being "automatic" by default.
Unfortunately, U.S. cars are not required to have daytime running lights or DRLs, those half-bright front lights that are on whenever the car is running. Their purpose is to make the car more visible to others…but unlike regular headlights, the do not illuminate the roadway in front of your vehicle. Problem is, they are often bright enough to convince the inattentive (or drunk) driver that their headlights are on.
Nighttime Driving: Are My Headlights Really Turned On?
Maybe you feel safe and comfortable thinking that your headlights are actually ON…but daytime running lights and always-on dash lights are confusing an increasing numbers of nighttime drivers. Here's our guide to correct headlight usage.
Here's the confusion factors. Newer vehicles increasingly come equipped with automatic headlights and daytime running lights, (DRLs) often making it a challenge to decipher which are actually on at any given moment.  In addition, dashboard lights that come on anytime your engine is running – as opposed to only with the headlights, as they used to…is confusing.  It was a previously reliable another visual cue that many drivers once used…but now can not be relied upon.
So which lights should you have on, and how can you tell whether they are? And what do those headlight symbols actually mean? Here's our guide to make sure you're no longer in the dark.
What's so confusing…you may ask? …confident that you can tell when your lights are turned on.  Really?  How sure are you? Look at these two images.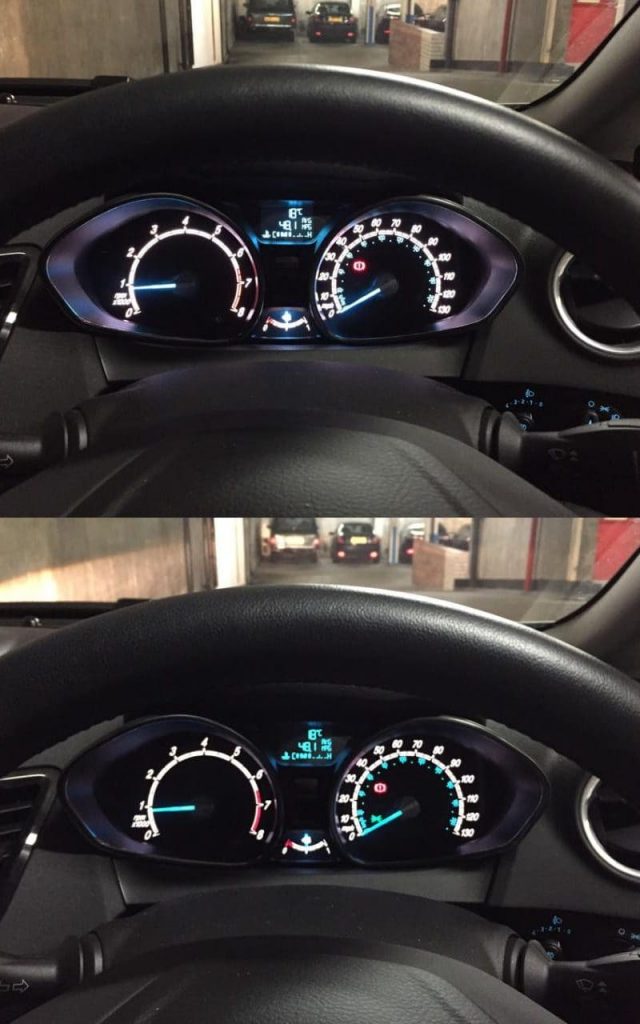 In the top one, the headlights are turned off, meaning the car's DRLs are active. In the lower image, the car's dipped-beam headlights are turned on.
Note that in both images, the dashboard lights are lit. Like many modern cars, this one features dashboard lights that come on when you turn on the ignition.